Arch Street Meeting House, a National Historic Landmark, was built atop Philadelphia's first burial ground in 1804, on land deeded by William Penn in 1701. Through guided tours and exhibits, Arch Street Meeting House tells the story of the impact and continuing relevance of Quakers in Pennsylvania and beyond.
320 Arch Street 215-413-1804
Visitors Welcome: Tue-Sat 10-4
Services: Sun 10:30 am; Wed 7 pm
www.archstreetmeetinghouse.org


Founded in 1695 as the Church of England, this is the site of the birth of the American Episcopal Church in 1789. It is often referred to as "the Nation's Church" because of its association with our country's Founding Fathers. The present building, constructed between 1727 and 1754, it is considered one of the finest examples of Georgian architecture in America.
2nd & Market Streets 215-922-1695
Tours Mon-Sat 9-5; Sun 1-5
Services: Sun 9 & 11 am
www.christchurchphila.org


By 1719, the grounds of Christ Church had run out of space for additional burials. The congregation purchased a plot of land on the outskirts of town — now known as "Old City." This is the final resting place for over 4,000 individuals — including Benjamin Franklin and four signers of the Declaration of Independence. It also served as the burial ground for early medical pioneers and Revolutionary War heroes.
5th & Arch Streets, 215-922-1695
across from Visitor Center
Weather permitting: Mon-Sat 10-4; Sun 12-4
Reduced hours in Dec; closed Jan-Feb
www.christchurchphila.org


Built in 1910 by the new immigrants from Eastern Europe, this synagogue is the oldest building in Philadelphia that was built as a synagogue and has been in continuous use as such. Today, it has experienced new vitality from the resurgence of Center City residents.
527 Lombard Street 215-238-2100
M-F Services: 7 am
Sat Services: 9:30 am
Sun Services: 8:30 am
www.phillyshul.com
A Spanish-Portuguese synagogue founded in 1740, Philadelphia's oldest Jewish congregation maintains its unchanged Sephardic tradition experienced by illustrious Jews of the Colonial era, such as Rebecca Gratz, Haym Salomon and others. Hebrew classes are taught periodically by Rabbi Gabbai. Check the website for information and access to the congregation's monthly calendar.
44 N. 4th Street 215-922-5446
M-F Services: 7 am
Sat Services: 9 am
Sun Services: 8 am
Tours available: contact www.mikvehisrael.org

This is the first Jewish cemetery in Pennsylvania. Begun on land purchased from the William Penn family in 1740, it was declared a National Historic Landmark in 1956. Many members of Mikveh Israel Congregation who served during the American Revolution are buried here — including Revolutionary War financier Haym Salomon and Nathan Levy, whose ship, the Myrtilla, brought the Liberty Bell to this country.
Spruce St. west of 8th; visible through gates
For more information, tours or access,
contact Congregation Mikveh Israel
215-922-5446

Mother Bethel AME Church sits on the oldest parcel of land continuously owned by African Americans. The formerly enslaved Bishop Richard Allen, pictured in the stained glass window shown on the left, purchased the land in 1791 and the church was established in 1794. Mother Bethel is a National Historic Landmark. Its lower-level museum illustrates the African American experience from Colonial times to the present.
419 Richard Allen Avenue (S. 6th Street) 215-925-0616
Services: Sun 9:30 am
Bible Study: Tue 7 pm, Wed 11 am
Free Tours: Tue-Sat 10-3, Sun after worship;
Mon by appointment
www.motherbethel.org

Founded by German settlers in 1727, the congregation erected its first building on this site — on land purchased in 1747 from John Penn, son of William Penn. The present Federal period structure was built in 1837, using materials from the second Colonial church.
151 N. 4th Street (at Race St.) 215-922-4566
Services: Sun 11 am (June-Sept 10 am)
www.oldfirstucc.org
Tours by appt.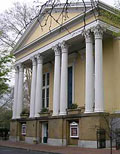 Erected in 1768, Old Pine is Philadelphia's only surviving Colonial-era Presbyterian church building. Pastor George Duffield, an ardent Revolutionary, led the congregation in the cause for independence. Gutted by the British, the church was completely remodeled in the 1830's.
412 Pine Street 215-925-8051
Mon-Fri 8:30-4:30; Tours by appointment
Services: Sun 10:30 am
www.oldpine.org

This is the site of the first Catholic Church in Philadelphia. From 1733 until the American Revolution, it was the only location in the British colonies where a public Catholic Mass could take place legally — a testament to William Penn's "Holy Experiment."
321 Willings Alley 215-923-1733
Rectory Hours: M-F 9:30-4:30, Sun 9-2
Services: Daily 12:05 pm; Sat 5:30 pm
Sun Mass: 7:30, 9:30, 11:30 am; 6:30 pm
www.oldstjoseph.org

Established in 1763, this Catholic Church was hidden behind houses to conceal its presence — which required parishioners to enter through its cemetery until 1886. Notables buried here include Commodore John Barry and Thomas FitzSimons, a signer of the Constitution.
252 S. 4th Street 215-923-7930
Daily 9-4:30 Services in
Services: Daily 7:30 am; Sat 4:30 pm; Convent Chapel
Sun 10 am 5th & Locust Sts.
www.oldstmary.com Mon-Fri 7:30 am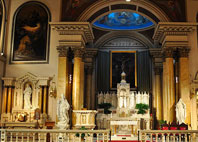 Founded in 1796 by the Augustinian Friars, this is one of the oldest Catholic churches in Philadelphia. Its original building burned down in 1844 during the "Know-Nothing Riots," and the present building was dedicated in 1848. The church has an active parish, and its "National Shrine for the Santo Niño of Cebu" represents cultural devotion by its many Filipino congregants.
243 N. Lawrence Street 215-627-1838
(corner N. 4th Street, below Vine Street)
Mon-Fri 9-2, or by appointment
Mass: M-F 12:05; Sat 5:15; Sun 9 & 11 am, 7 pm
www.st-augustinechurch.com
This is the United Methodist's oldest church building, where services have been held since 1769. Francis Asbury, the denomination's first bishop, called this church "the Cradle of American Methodism." Its museum features many fine portraits and artifacts of church and local history.
235 N. 4th Street 215-925-7788
Mon-Fri 10-4; Sat am by appointment
Services: Sun 10 am
www.historicstgeorges.org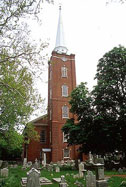 Founded in 1761, this church preserves most of its original features that were designed by America's first architect Robert Smith. Listen to stories from 250 years of church and churchyard history through audio tours by either phoning 215-554-6161 or visiting www.stpetersphila.org.
Pine Street, between 3rd & 4th Streets 215-925-5968
Services: Sun 9 & 11 am
Guided tours: Sat 11-5; Sun 1-3
Call to schedule additional tours.
www.stpetersphila.org