Penn's Landing
The RiverRink at Penn's Landing is Philadephia's only outdoor public ice-skating rink. Open daily from November through March, the RiverRink offers skate rentals and skating lessons. A perfect way to enjoy the great outdoors and fresh air fun.
Now, for the summer of 2015, the RiverRink becomes an outdoor roller skating rink! Trade your blades for some wheels and let the good times roll.
Columbus Blvd & Market Street 215-925-RINK
Daily, starting Memorial Day weekend
www.riverrink.com

Enjoy summer with an exciting season of free marquee concerts, family entertainment, multicultural festivals, outdoor movies, fireworks and more — on the new RiverStage at Penn's Landing.
Columbus Blvd & Chestnut Street 215-922-2FUN

www.delawareriverevents.com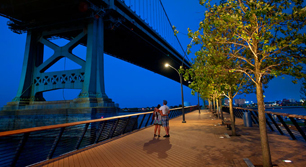 This new park combines inviting landscape architecture with spectacular waterfront views. Its raised boardwalk and tree-lined paths are ideal for walking or relaxing while enjoying the panorama of the Ben Franklin Bridge, Center City, and Delaware River. Open year-round, with easy access.
Columbus Blvd at Race Street
www.racestreetpier.com

Public Squares
This amusement oasis features a miniature golf course, a carousel, and free playground. Putt through the crack of the Liberty Bell or through the "LOVE" statue in the Philly-themed golf course. Take a spin on the carousel that features whimsical animals. Enjoy lunch, dinner, and a frosty milkshake or ice cream by the fountain.
6th & Race Streets 215-629-4026
Daily; Hours vary
www.historicphiladelphia.org



This beautiful pedestrian-friendly park is filled with horticultural wonders and comfortable benches that provide a welcome respite for both tourists and residents. Revolutionary War soldiers, Colonial-era African Americans, and victims of the 1793 yellow fever epidemic were buried here. An eternal flame memorializes the Tomb of the Unknown Revolutionary War Soldier.
6th & Walnut Streets