The first institution funded and built (in 1976) by a major municipality to document the heritage of African Americans. "Audacious Freedom: African Americans in Philadelphia 1776-1876" focuses on the lives of African Americans during and after the birth of our new nation. Exhibits and programs recount achievements in the arts, entertainment, sports, politics and the Civil Rights movement.
701 Arch Street 215-574-0380
Thurs-Sat 10-5, Sun 12-5
Call to confirm holiday schedule.
www.aampmuseum.org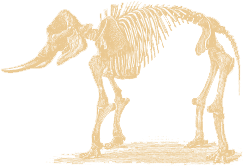 This is the nation's oldest and most prestigious learned society with an international membership that includes many Nobel Laureates. It was founded by Benjamin Franklin in 1743 to promote useful knowledge in the sciences and humanities through research, seminars and library resources. Changing exhibits are open to the public.
Library Hall Philosophical Hall
105 S. 5th Street 104 S. 5th Street
Mon-Fri 9-4:45 Call for hours
215-440-3400
www.amphilsoc.org

Nearly 200 years old, the Athenaeum is a museum, library, rare books collection and archive — housed in an 1847 National Historic Landmark building. Visitors are welcome to visit its unique collections, reading rooms and changing exhibits of rare books, architecture and design. Researchers and group tours are asked to schedule appointments.
219 S. 6th Street 215-925-2688
Mon-Fri 9-5
Fall-Spring: First 3 Sats 11-3
www.PhilaAthenaeum.org


Visit this historic house museum that commemorates the life and accomplishments of Betsy Ross — the Philadelphia patriot believed to have created America's first flag. Experience interactive exhibits and meet "Betsy" as she works in her upholstery shop! The audio tour offers a fascinating look at the woman and the legend.
239 Arch Street 215-686-1252
Spring thru summer: Daily 10-5
Fall thru winter: Tues-Sun: 10-5
www.historicphiladelphia.org


This privately owned National Historic Landmark, located within Independence Park, was the site of the First Continental Congress in 1774. It is home to The Carpenters' Company, America's oldest extant craft guild, founded in 1724. See original Windsor chairs used by our Founding Fathers and a model of the Hall being constructed.
320 Chestnut Street 215-925-0167
Tue-Sun 10-4, Closed Tue Jan-Feb
www.carpentershall.org




The center displays wood art on site, in traveling exhibitions and in publications. Its permanent collection of over 1000 objects from around the world ranges from traditional and functional every-day objects to contemporary sculptures. The library is filled with images, artists' files and books to help preserve the exciting history of wood turning and woodworking and their continuing evolution as contemporary art forms. Outreach programs bring hands-on wood turning and woodworking experience to students throughout the region.
141 N. 3rd Street 215-923-8000
Tue-Sat 10-5
Closed Sun & Mon
www.centerforartinwood.org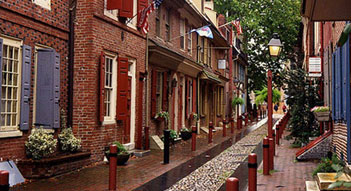 America's oldest continuously residential street, this National Historical Landmark site has been home to thousands of people for over 300 years. Of its 32 original houses, 29 remain as private residences. Peek into the lives of working-class Colonial Americans by visiting the museum located in Houses #124 and 126, where tours are offered and souvenir guidebooks are available.
Off 2nd Street, between Race & Arch
Fri-Sun: 12-5
www.elfrethsalley.org 215-574-0560

Access to Alley:


Tours and Museum:


Learn about our nation's financial history in the city where it all started. The "Money in Motion" exhibit traces changes in our currency from the early 1600's to today. View money from the original 13 colonies, and a rare $100,000 bill. Explore our Federal Reserve System through state-of-the-art interactive displays.
100 N. 6th Street, between Arch & Race 866-574-3727
March-Dec: Mon-Fri 9:30-4:30
June-Aug add: Sat 9-4:30
(Last visitors admitted at 4)
www.philadelphiafed.org


Firefighting history, which traces its lineage back to Benjamin Franklin, comes alive in this restored 1902 firehouse operated by Philadelphia's Fire Department. Displays include a 1730 hand pumper and the oldest existing steam fire engine in the country. Featured is an interactive fire safety display and 9/11 artifacts from Ground Zero. A new exhibit, "Franklin's Volunteers," covers Philadelphia firefighters prior to 1871.
147 N. 2nd Street 215-923-1438
Tue-Sat: 10-4:30. Closed major holidays.
First Fri of every month: 10-9
www.firemanshallmuseum.org



General collections for children and adults include literature, poetry, nonfiction, newspapers and magazines. Special collections feature Philadelphia history and architecture, Chinese language and culture, and gay/lesbian topics. Computers are available to all. Book bargains abound in the used book alcove.
18 S. 7th Street 215-685-1633
Mon & Wed: 12-8; Tue & Thur: 10-6; Fri & Sat: 10-5
Closed Sun & all major holidays

www.freelibrary.org



This National Historic Landmark consists of America's last remaining Colonial era marketplace, built in 1745, which is attached to our nation's oldest volunteer firehouse, built in 1805. The block-long roofed market sheds have been returned to their original purpose — now functioning on weekends every spring through fall as a thriving Farmers' Market and Crafts Fair.
S. 2nd Street, 215-413-3713
between Pine & Delancey Streets
Spring thru Fall: Crafts Fair, Sat 10-6
Farmers' Market, Sun 10-2
www.headhousemarket.org
One of the largest maritime collections in North America, this museum combines more than 25,000 artifacts with hands-on exhibits, boat models, and audiovisual displays. Watch a boat being built in the "Workshop on the Water" and climb inside two National Historic Landmark ships: the cruiser Olympia and the submarine Becuna. Museum highlights include a concert hall, children's programs, guided tours, plus a research archive and library.
Penn's Landing, Columbus Blvd & Walnut St.
Daily 10-5
Thurs-Sat 10-7 thru Aug 31
closed New Year's Day, Thanksgiving, Christmas
215-413-8655
www.phillyseaport.org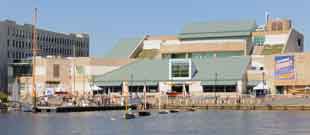 Make this your first stop for information about Philadelphia and the region. Its multi-lingual Visitor Services staff can help plan your visit and provide tickets to local tours and attractions. This Visitor Center is the exclusive location to pick up free, timed tickets to tour Independence Hall. A gift shop, café, and theaters can all be found here.
6th & Market Streets, 1 N. Independence Mall W.
Daily: 8:30-6
Memorial Day - Labor Day: 8:30-7
Closed Thanksgiving Day & Christmas Day
215-965-76761-800-537-7676
www.PHLVisitorCenter.com






Explore the history and relevance of our nation's founding document here. Begin with "Freedom Rising," the theatrical production that takes you on a journey from 1787 to the present. "The Story of We the People" is a core exhibit where you can take the Oath of Office, vote for your favorite president, and sit on a Supreme Court bench. Then, in "Signers' Hall," pose with life-size statues of the delegates to the Constitutional Convention.
Independence Mall, 215-409-6600
525 Arch Street
Mon-Fri 9:30-5; Sat 9:30-6; Sun 12-5
Closed Thanksgiving & Christmas

www.constitutioncenter.org



Located in the heart of Historic Philadelphia, the National Liberty Museum brings liberty to life by fostering strong character and civic engagement. Enter the brand new Welcome Gallery, free to the public, and touch an exact replica of the Liberty Bell. Next, take an inspirational walk through freedom, interacting with heroes and artwork from around the world; look inside Nelson Mandela's jail cell; gaze at the museum's extensive collection of glass art; honor the heroes of 9/11. With its unique combination of personal and peer experiences, entertainment and adventure, and intrigue and inspiration, the National Liberty Museum allows us all to explore liberty and discover our inner hero.
321 Chestnut Street 215-925-2800
Open 7 days/week, 10-5
Call for Holiday schedule
www.libertymuseum.org



This family-friendly museum illuminates the rights and freedoms enjoyed by all Americans. It illustrates how an immigrant population flourished under freedom after arriving in North America over 350 years ago. The new building showcases 1,200 artifacts, films and state-of-the-art interactive exhibits. Because other immigrants faced challenges similar to those confronted by Jews, this is a museum for all people to explore.
101 S Independence Mall East 215-923-3811
Tues-Fri: 10- 5 Sat-Sun 10-5:30; Closed Mon

www.nmajh.org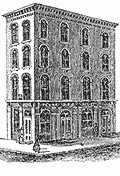 In 1808, prominent Americans — including Dr. Benjamin Rush, signer of the Declaration of Independence, and Bishop William White, first chaplain to the Continental Congress — founded the nation's first society for the distribution of Bibles. The first Bible printed in the United States from stereotyped plates (dated 1812) is on exhibit at the historic Bible House (built for the Society in 1853). Its bookshop features Bibles in many versions and languages.
701 Walnut Street 215-922-6779
Tues-Fri 10:30-3:30
(call for additional hours)
www.pabible.org

The nation's first hospital, founded in 1751 by Dr. Thomas Bond and Benjamin Franklin, is now one of America's foremost medical centers. Its historic Pine Building features America's first medical library and oldest surgical amphitheatre. Works of art by Thomas Sully, Thomas Eakins, and Benjamin West are on view. Hospital archives hold administrative records from 1751.
800 Spruce Street 215-829-3370
Guided tours by appointment. ($4/person suggested)
Self-guided tours: M-F, 9-4 ($4 suggested for tour brochure)
For research or other appointments,
call 215-829-5434.
www.uphs.upenn.edu/paharc/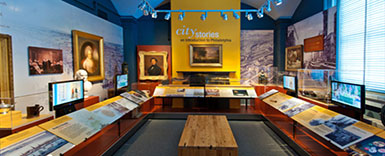 Explore Philadelphia's 330-year history at this newly renovated historic building just steps from Independence Hall. Rare treasures on display date from the city's founding, Revolutionary and Civil War periods, as well as industrial and immigration eras. This museum celebrates Philadelphia as "Workshop of the World" and reveals the city's diversity with many wonderful exhibits — including "World Series Champions."
15 S. 7th Street 215-685-4830
Tues-Sat: 10:30-4:30 Free for children under 12

www.philadelphiahistory.org



This unique free-standing Federal townhouse, built in 1786, is named after Dr. Philip Syng Physick, the "Father of American Surgery" and "Soda's Pop." Its period rooms feature French-influenced neo-classical furnishings and a medical museum depicting Dr. Physick's amazing career. The large garden, with a winding path and grotto, contains plants characteristic of the 19th century.
321 S. 4th Street 215-925-7866
Tours: Thur-Sat 12-4; Sun 1-4
Jan & Feb: by appointment only
www.philalandmarks.org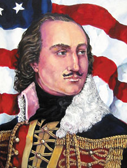 This museum offers programs and exhibits featuring contributions of Poles and Polish Americans to world history and the USA — in the sciences, art, music, politics, religion and military achievement. On exhibit are paintings of "Great Polish Men and Women" and a display of WW II photographs from 1939 to 1944.
308 Walnut Street 215-922-1700
Mon-Sat 10-4
Jan-April closed Saturdays
Closed holidays
www.polishamericancenter.org


Step into one of America's grand Georgian homes and enter the world of the Colonial elite. Samuel Powel, Philadelphia's "Patriot Mayor" and his wife, Elizabeth Willing, were preeminent hosts who entertained the leaders of the American Revolution. Visit the drawing room where George Washington danced; ponder John Adams' "sinful feast;" and stroll through the tranquil garden.
244 S. 3rd Street 215-627-0364
Tours: Thur-Sat 12-4; Sun 1-4;
Jan & Feb: by appointment only
www.philalandmarks.org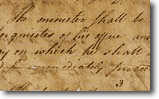 This national archives and historical research center of the Presbyterian Church (USA) collects, preserves, and shares the history of the American Presbyterian and Reformed tradition. Headquartered in Philadelphia and open to the public, the Society's holdings include 18th to 21st-century denominational records, personal papers, and materials.
425 Lombard Street 215-627-1852
Mon-Fri: 8:30-4:30
Daily research $5; exhibit free
www.history.pcusa.org

The institute reveals chemistry's untold stories, from alchemy to nanotechnology. Trace scientific progress in the laboratory, factory, and home, and learn how chemistry continues to shape the modern world. Discover the chemistry in your life!
315 Chestnut Street 215-925-2222
Mon-Fri: 10-5 (10-8 First Fridays Mar-Dec)
Call or visit the website for information
on seasonal weekend hours
https://www.sciencehistory.org

Most members of this historical society are descendants of Continental Army or Navy officers. Its name derives from "Cincinnatus" — an ancient Roman farmer who, like George Washington, left his plow to lead an army and later declined autocratic leadership of the country. Portraits and artifacts of the Society's members are displayed at its Pennsylvania headquarters.
321 S. 4th Street (Physick House) 215-925-7866
Thur-Sat: 12-5; Sun 1-5; Last tours at 4
Jan & Feb: by appointment only

Future Site to Visit
The museum is not open yet, but you can visit its parent organization, the American Revolution Center, by going online to www.museumoftheamericanrevolution.org.